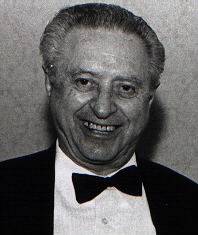 Orazio Z. Buttafuoco, freelance writer and retired college instructor, has been writing for the Post-Gazette since 1998. His columns include "The Bilingual Corner" and "News Briefs From Italy."
Born in Italy, Orazio came to the United States on November 13, 1958 as an exchange student. After marrying Eileen Driscoll in 1962, he resumed school at Northeastern University. Graduating in 1968, Orazio began teaching Latin and Italian at Christopher Columbus High School until 1970 at which time he entered the Boston Public Schools and taught until 1987. In 1990, he began teaching American government and U.S. history at Quincy College, and later taught Italian which he was instrumental in having included into the college curriculum.
Orazio is the author of two books, "Sicily - Myth & Reality" and "Soccer - The Universal Game," as well as the author of essays published by the Pirandello Lyceum.
He has received many honors, including, Cavaliere (Knight) of the Order St. George in Carintia, and Academician (Accademia) Tiberina, Rome, Italy. He is a member of many organizations and is a certified interpreter/translator through Berlitz International Services in Washington.
Orazio is a member and co-founder of the Dante Alighieri Society of Massachusetts, the Pirandello Lyceum, the Massachusetts Italian Teachers Association, and the OSIA Lodge Peter E. Donadio #2649 in Milton, Massachusetts.
Orazio is producer and announcer of a weekly Italian-language TV program, "Panorama Italo-Americano," aired on Channel 10, AT&T Broadband, Weymouth, Massachusetts, on Monday, Tuesday and Thursday.
He has been an active member of the Order Sons of Italy in America since 1967, as well as being a member of most state commissions and committees. He is presently the Chairman of the Italian Culture Commission, Grand Lodge of Massachusetts, and a frequent lecturer on several aspects of Italian cultural topics.
Orazio is a volunteer at South Shore Hospital in Weymouth, Massachusetts.